Sie möchten während Ihres Studiums ins Ausland gehen?
Sie kommen aus dem Ausland und möchten ein Studium in Regensburg beginnen?
Dann sind Sie hier richtig!
Studieninteressierte aus aller Welt erhalten von uns hier (siehe Messestand unten) Informationen zu den Rahmenbedingungen eines Studiums an der Universität Regensburg oder OTH Regensburg.
Das International Office der Universität Regensburg informiert hier über die Möglichkeiten eines Auslandsaufenthalts während Ihres Studiums an der UR.
Das Akademische Auslandsamt der Ostbayerischen Technischen Hochschule Regensburg (OTH Regensburg) informiert hier zu allen Themen rund um den Auslandsaufenthalt während des Studiums.
Sie erhalten hilfreiche Informationen zu Bewerbung, Zulassungsvoraussetzungen, erforderlichen Deutschkenntnissen, Visum und vielen anderen Themen. Wir freuen uns auf Ihren Besuch!
Falls eine Frage offen bleibt, helfen wir Ihnen gerne persönlich weiter. Unsere Kontaktdaten finden Sie an unseren Ständen.
Wenn Sie an einer Partnerhochschule der UR oder OTH Regensburg studieren und ein oder zwei Semester in Regensburg verbringen möchten, kontaktieren Sie uns gerne per E-Mail:
Kontakt für internationale Austauschstudierende:
Would you like to spend some time abroad during your studies?
You are from abroad and would like to start studying in Regensburg?
Then you are in the right place!
International students all over the world: Please find here (see booth below) helpful information about the general conditions and requirements for studying at the University of Regensburg and OTH Regensburg, which are important for you as a prospective student.
The International Office of the University of Regensburg informs you here about the possibilities of a stay abroad during your studies at the UR.
The International Office of OTH Regensburg informs you here on all topics related to a stay abroad during your studies.
You will receive helpful information on application, admission requirements, required German language skills, visa, and many other topics. We are looking forward to your visit!
If a question remains unanswered, please do not hesitate to contact us. You will find our contact details at our booths.
If you are studying at one of UR's or OTH Regensburg's international partner universities and would like to spend one or two semesters in Regensburg, please feel free to contact us by e-mail:
Contact for international exchange students: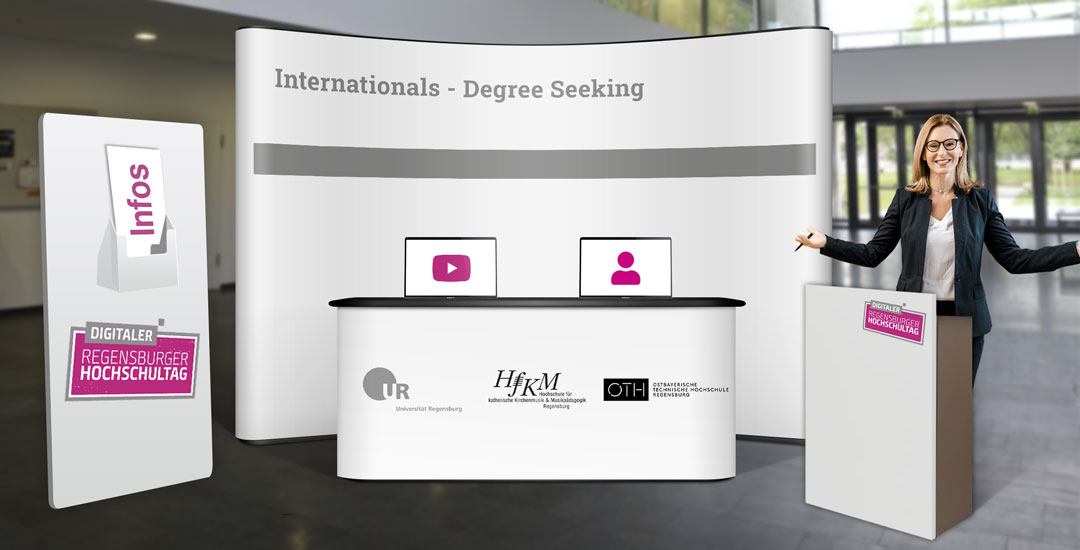 Videos
Universität Regensburg:
OTH Regensburg: